Join PBS North Carolina at our Impact Early Childhood Education Summit
The Impact Early Childhood Education Summit is a gathering of Early Childhood Education Professionals, parents and caregivers aimed at celebrating and supporting those who are helping children, birth through third grade, to grow strong roots for a healthy foundation.
There is no cost to attend! Teachers may use this Impact Summit for Continuing Education Units.
DATE
Saturday, June 25, 2022
9 AM–3:30 PM
*The in-person event was held Saturday, July 18, 2022 in Charlotte, NC.

VIRTUAL DAY
We will host a virtual Impact Summit opportunity on Saturday, June 25, 9 AM–3:30 PM, featuring recordings from many of the Impact Summit sessions. (Full virtual schedule and details coming soon.)
Signing up the virtual event is easy! Simply choose "Virtual" as your preference on the Registration form.
VIRTUAL AGENDA
9–10 AM Welcome & Keynote
10–10:15 AM Brain Break with PBS KIDS
10:15–10:45 AM Whole Group Session
10:45–11 AM Movement Break with PBS KIDS
11 AM–Noon PBS KIDS Self-Paced Learning
Noon–12:30 PM Lunch Break
12:30–2:30 PM Self-Paced Adventure
2:30–3:30 PM Whole Group Session
ABOUT THE SUMMIT
PBS North Carolina NC DHHS Division of Childhood Development and Early Childhood Education and the NC Department of Public Instruction have come together to deliver a FREE full day conference for educators. What happens in the early years of a child's life shapes the rest of their lives in important ways, but too often, those who are doing the work in those early years are overlooked in professional development and parenting support events.
Discover new strategies for helping our youngest learners (birth to grade 3) grow strong roots in literacy and beyond at this daylong event for educators, parents and caregivers. Attend presentations and breakout sessions, network with colleagues and earn contact hour credits on topics ranging from art integration, educational media and STEM curriculum to equity in education and parenting.
Explore breakout session topics and learn more about our keynote speaker and featured panelists below.
SUMMIT AGENDA //
8–9 AM Check-In
9–10 AM Morning Session
10–10:45 AM Keynote by Kelly Starling Lyons
10:45–11 AM Partner Playground Break
11 AM–Noon Fred Rogers Productions Panel
Noon–12:45 PM Lunch
15 minute break
1–1:45 PM Concurrent Sessions A
10 minute break
1:55–2:20 PM Partner Playground Break
10 minute break
2:30–3:15 PM Concurrent Sessions B
15 minute break
3:30–4:20 PM Concurrent Sessions C
4:20 PM Block Party
KEYNOTE SPEAKER Kelly Starling Lyons
Kelly Starling Lyons is an award-winning children's book author, teaching artist and founding member of the Brown Bookshelf, which raises awareness of Black voices writing for young readers. Her mission is to center Black heroes, celebrate family, friendship and heritage. She has written more than 20 books for young readers. Among her acclaimed titles are Caldecott Honor winner Going Down Home with Daddy and Theodor Seuss Geisel Honor Award recipient Ty's Travels: Zip, Zoom. She lives in Raleigh and was named to Good Morning America's 2021 Inspiration List: Who's Making Black History.
FEATURED PANEL DISCUSSION Fred Rogers Productions
MODERATOR:
Roberta L. Schomburg, Ph.D, a child development advisor for Fred Rogers Productions, will moderate a discussion on the ways in which the group's social-emotional focused series build upon one another to form a well-rounded curriculum to foster development and growth for children through the years.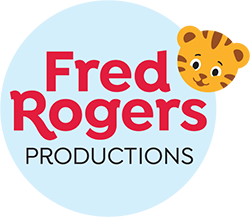 Kristin DiQuollo
Supervising Producer, Donkey Hodie
As supervising producer of Donkey Hodie, Kristin DiQuollo provides leadership and creative vision to Fred Rogers Productions' newest preschool series, which is inspired by characters from Mister Rogers' Neighborhood. Prior to joining the company, she led the production of broadcast and digital content for the PBS KIDS series Cyberchase as executive producer and story editor at WNET New York, helping to spearhead its expansion on digital platforms, including strategies for accessibility as well as its evolution as a series focusing on math and environmental themes for 6–8-year-olds.
Olubunmi Mia Olufemi
Supervising Producer, Alma's Way
Olubunmi Mia Olufemi is supervising producer of Alma's Way, a PBS KIDS series created by Sonia Manzano ("Maria" of Sesame Street) and produced by Fred Rogers Productions. Olufemi started her career in children's television at WGBH (now known as GBH) Educational Foundation, where she worked on acclaimed children's properties including Arthur, Curious George, Martha Speaks and Design Squad Global. Most recently, she was the producer of Molly of Denali, the Peabody Award–winning PBS KIDS show.
Chris Loggins
Supervising Producer, Daniel Tiger's Neighborhood
Chris Loggins is supervising producer for Daniel Tiger's Neighborhood, overseeing all aspects of television production, working closely with partners on everything from scripting through final episode delivery and beyond, and directing live-action segments. An Emmy® Award–winning producer, he also serves as production manager for Peg + Cat and Odd Squad, which both air on PBS KIDS.
BREAKOUT SESSIONS
Explore breakout sessions available below. Download the full Impact Summit Guidebook for more information, including session descriptions and presenters.
SESSION A
1–1:45 PM
Ditch the Textbook & Embrace the Tech
Beginning Readers & Decodable Text: What, Why & How
Meet the Bee-Bots
How Are We Feeling? Using Children's Books to Enhance Social-Emotional Literacy
Parents & Early Childhood Professionals Come Together to Support Families Experiencing Homelessness
An Educator's Influence on Preschool Hygiene: Where Do We Go from Here?
I Am Molly! Molly Is Me! Using Informational Text with PBS KIDS to Teach Values in This Ever-Changing World
Mind Full or Mindful?
Deep Dive into Data Literacy
Meeting Families Where They Are
Imagining Equity: Starting with Our Youngest
Science of Reading Implementation Isn't an Event, It's a Process
A Playful Pedagogy: Including All Children in Outdoor Play & Learning
STEMulate Learning: Making the Case for STEM in Early Childhood Education
Computational Thinking for All Children: Embedding Foundational Concepts to Empower Future Coders
Serve & Return: You Make a Difference
Transition to Kindergarten: Sharing Student Information Between Pre-K & Kindergarten
SESSION B
2:30–3:15 PM
Family Connections: Integrating Age-Appropriate Literacy Activities in the Home Environment
Creating with Littles
Amplify Your Read Aloud with Active Reading
Go NAPSACC: Building a Foundation of Health Equity
Sparking Children's Interests: The Key to Engaged Learning
Honoring Culture in the Classroom with PBS KIDS
The Case for Collaboration
Using PowerPoint & Screencast-O-Matic to Create Learning Activities for Early Learners
PBS LearningMedia 101
Painting with a Twist of Literacy: Connecting Books with Painting
Using Data to Build Capacity: Landscape Study of Prenatal–Age 3 Services & Supports in Mecklenburg County
The Sounds of Reading: Phonological Awareness in Today's Classroom
The Lit Fuse
Making Connections: Using Children's Books to Support Identity, Equity & Inclusion
Three Early Reading Strategies You Need to Know
Using Data to Improve Reading Instruction in K–3 Classrooms
Families as Partners: Using Everyday Tools to Increase Learning Outcomes in Children
SESSION C
3:30–4:20 PM
Can We Read It Again? Engaging Children with Picture Books & Early Mathematics
Tech Up the Math
Supporting Children's Emotional & Social Development
The Coalescence of STEM & Early Childhood Education: Opting to Engage
Professional Learning Community: Equity in the Field of Early Childhood Education
A Great Place to Work: Creating a Healthy Organizational Climate
In Whose Universe? Struggles in Shaping the Vision for Equitable Universal Pre-K
Building on an Equitable Foundation: Mirrors, Windows & Sliding Glass Doors
Multi-Sensory Literacy with PBS KIDS
Supporting Social Emotional Learning through Classroom & Family Partnerships
PBS KIDS Self-Paced Learning
Career Navigation & Recruitment of Bilingual Early Childhood Educators
Science of Reading Resources for Little Learners
What Does Equity & Justice Look Like in Early Childhood?
It Takes Two to Make a Thing Go Right
Playful, Inclusive & All Day Long: STEM for Each and Every Child
Gray or White Matter? Both Matter for Literacy
Behavior as Communication: Guiding Children's Positive Social-Emotional Development
REGISTRATION
The Impact Early Childhood Education Summit is free to attend!
Registration is required.
This free event is made possible by the generosity of our partners:
North Carolina Department of Health and Human Services Division of Child Development and Early Education
North Carolina Department of Public Instruction
The William R. Kenan, Jr. Charitable Trust
The 2022 Impact Early Childhood Education Summit is made possible by Grant Number 90TP0056-03-00 from the Office of Child Care, Administration for Children and Families, U.S. Department of Health and Human Services. Its contents are solely the responsibility of the authors and do not necessarily represent the official views of the Office of Child Care, the Administration for Children and Families or the U.S. Department of Health and Human Services.