FOR IMMEDIATE RELEASE
FOCUS ON...CONFEDERATE MONUMENTS
UNC-TV & WFAE's Charlotte Talks Present a Community Conversation, Premiering Wednesday, November 15, at 8 PM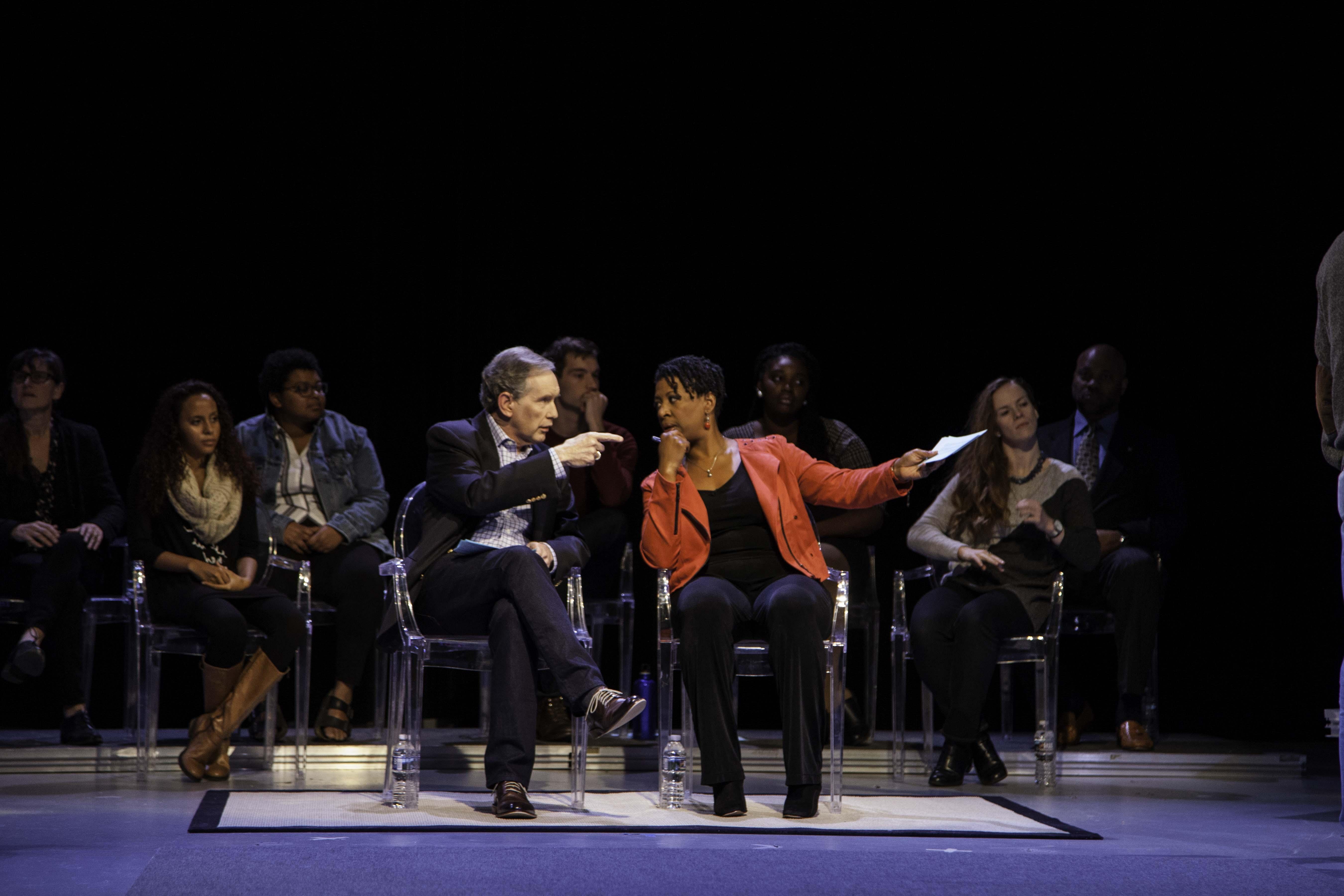 RESEARCH TRIANGLE PARK (Tuesday, November 14, 2017) — UNC-TV, North Carolina's PBS & More channel, and WFAE, Charlotte's NPR affiliate, present
Focus on: Confederate Monuments
, premiering Wednesday, November 15, at 8 PM.
Since recent events in Charlottesville, VA, and around the country, our nation has been engaged in a tug of war over the presence of Confederate monuments in our communities. At the heart of the controversy are critical questions about history, free speech and laws governing public space, art and memorials. With an invited audience representing various perspectives, UNC‐TV presents Focus on: Confederate Monuments. Hosted by UNC-TV's Deborah Holt Noel and WFAE FM's Charlotte Talks host Mike Collins, this conversation examines questions about the place, purpose and relevance of these memorials today.
The show examines the history of Confederate monuments across North Carolina, events leading up to today's debates over the monuments and approaches to informing history and policy going forward. Invited guests include:
William Sturkey, PhD

Assistant Professor, UNC-Chapel Hill Department of History

Brenda Tindal

Historian, Levine Museum of the New South Staff

Frank Powell

Spokesperson, NC Sons of Confederate Veterans

Adam Lovelady

Assistant Professor, Public Law & Government at UNC School of Government

Gary Pendleton

, Former District 49 State Representative

Timothy Tyson

Senior Research Scholar at Duke University Center for Documentary Studies, Visiting Professor of American Christianity & Southern Culture at Duke Divinity School, American Studies Adjunct Professor at UNC-Chapel Hill and author of The Blood of Emmett Till and Blood Done Sign My Name

Harry Watson

Atlanta Alumni Distinguished Professor of Southern Culture at UNC-Chapel Hill Department of History, former member of the NC Historical Commission

Bree Newsome

Community organizer/activist from Charlotte who was arrested for removing the Confederate flag at the South Carolina Statehouse in Columbia

Matthew Champagne

NC State University Historians for a Better Future

Malinda Lowery

Director at

UNC-Chapel Hill Center for the Study of the American South

Maya Little

UNC-Chapel Hill student involved with efforts to remove the statue of "Silent Sam" from its

McCorkle Place location
Additionally, some audience members, comprised of student and community group members, as well as area media representatives, will share their questions and comments.
Focus on: Confederate Monuments
, recorded Monday, November 13, at the UNC‐TV studios in Research Triangle Park, airs on Collins' Charlotte Talks show on WFAE FM, Wednesday, November 15, at 9 AM. The special premieres on the UNC-TV PBS & More Channel, will simulcast at facebook.com/unctv, Wednesday, November 15, at 8 PM.
About UNC-TV
UNC-TV, Public Media North Carolina, provides people of all ages with enriching media through its distinctive array of programs and services online and via four digital channels: UNC-TV—PBS & More, UNC-EX—The Explorer Channel, Rootle—UNC-TV's 24/7 PBS KIDS Channel and the North Carolina Channel—Stories with a Local Accent. UNC-TV's 12 stations comprise North Carolina's only statewide television network, made possible through a unique partnership of public investment and private support. Additionally, UNC-TV provides emergency services support for the state and free educational services and resources for teachers.
UNC-TV is committed to producing, broadcasting and sharing content for and about North Carolina, making it the most important source of information about the state. Visit unctv.org and join the conversation by connecting with us at
facebook.com/unctv
,
@unctv
on Twitter and
instagram.com/unctv
.
Contact:
Rebekah Radisch, UNC-TV Marketing Communications, 919-549-7177 or
rradisch@unctv.org