FOR IMMEDIATE RELEASE
NAB NAMES UNC-TV WINNER OF 2017 PILOT INNOVATION CHALLENGE
Network Takes $30K Prize for Plan To Improve NC's Emergency Services Communications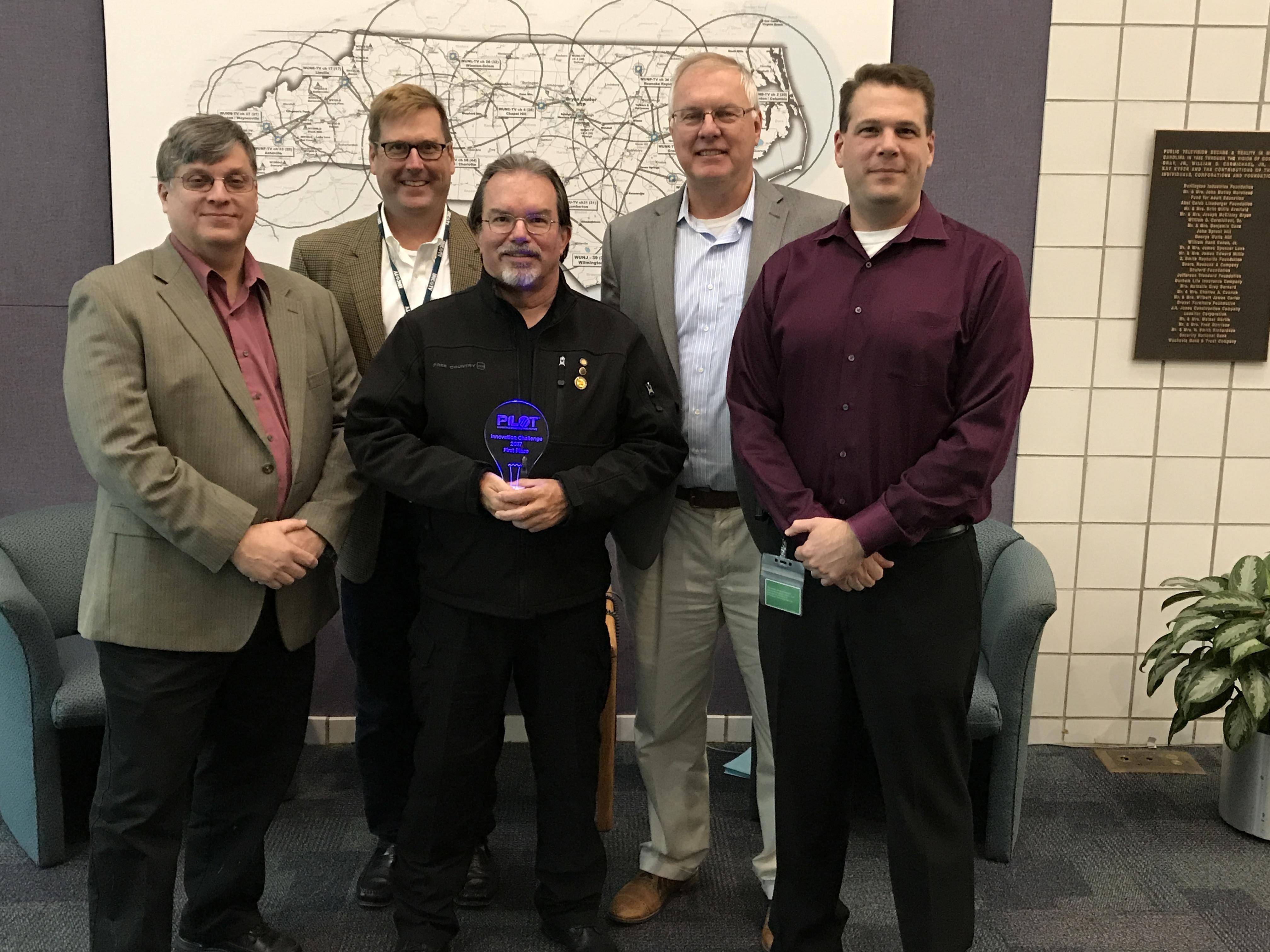 RESEARCH TRIANGLE PARK — UNC-TV, Public Media North Carolina, was awarded first place in the 2017 National Association of Broadcasters PILOT Innovation Challenge, Sunday, November 12, at the NAB Futures event in Palo Alto, California. The $30,000 award was granted for "creative ideas that leverage technological advances in the production, distribution and display of engaging content." UNC-TV's Director of Engineering & Emergency Services Adam Woodlief presented on behalf of the UNC-TV team. (Information about the award is available at: nabpilot.org/pilot-reveals-2017-innovation-challenge-winners.)
UNC-TV's proposal,
Next Gen TV—Saving Lives One Alert at a Time
, developed from discussions with members of the state's public safety community. They came to UNC-TV with a question: "Could the data delivery capability of digital television broadcasting be leveraged to provide first responders with critical information faster and, potentially, with far greater detail than current communication systems?" UNC-TV determined to answer their question in the affirmative.
Many fire departments and emergency service responders still utilize analog paging systems based on alert protocol developed over half a century ago. Although reliable, the system is limited in capability and, more importantly, delivers messages in a serial method. For multiple unit fire calls, these one-after-another messages can take more than a minute to deliver vital information to every responding unit and, as one fire official noted, "a fire can double in size in one minute." Every means of reducing response time is critical.
UNC-TV will work with public safety officials in North Carolina to prove the ability of the ATSC 3.0 "Next Gen" television system to deliver this critical messaging. Utilizing the UNC-TV "tall tower, high power" transmission network, this system could be the backbone for enhanced emergency messaging and the blueprint for systems around the country.
In addition to Woodlief, the UNC-TV team included UNC-TV Director of New Technologies, Compliance & Planning Don Smith and UNC-TV Senior Director of Technology Fred Engel. The team's outside partners were Red Grasso, North Carolina FirstNet single point of contact, and Paul Sadowski, Research & Development, Radio Frequency Consulting engineer FGS LLC. A white paper developed by the team is available at
http://unc.tv/paging
.
UNC-TV, Public Media North Carolina, provides people of all ages with enriching media through its distinctive array of programs and services online and via four digital channels: UNC-TV—PBS & More, UNC-EX—The Explorer Channel, Rootle—UNC-TV's 24/7 PBS KIDS Channel and the North Carolina Channel—Stories with a Local Accent. UNC-TV's 12 stations comprise North Carolina's only statewide television network, made possible through a unique partnership of public investment and private support. Additionally, UNC-TV provides emergency services support for the state and free educational services and resources for teachers.
UNC-TV is committed to producing, broadcasting and sharing content for and about North Carolina, making it the most important source of information about the state. Visit unctv.org and join the conversation by connecting with us at
facebook.com/unctv
,
@unctv
on Twitter and
instagram.com/unctv
.
Contact:
Rebekah Radisch, UNC-TV Marketing Communications, 919-549-7177 or
rradisch@unctv.org