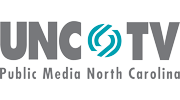 F O R . I M M E D I A T E . R E L E A S E
UNC-TV PUBLIC MEDIA NORTH CAROLINA TO RECEIVE $25,000 NEA Grant
From the National Endowment for the Arts
Research Triangle Park, NC, Thursday, January 16, 2020 — UNC-TV Public Media North Carolina and the National Endowment for the Arts (NEA) announced today that the NEA approved a $25,000 Art Works grant to support UNC-TV's nationally distributed REEL SOUTH independent film series. This project will further UNC-TV's efforts to expand the series' revelatory Southern stories and elevate engagement and discussion about life in today's South. Overall, the National Endowment for the Arts has approved 1,187 grants totaling $27.3 million in the first round of fiscal year 2020 funding to support arts projects in every state in the nation, as well as the District of Columbia and Puerto Rico. This grant will be the third NEA grant received by UNC-TV, representing a total of $70,000 in support, for REEL SOUTH.
The Art Works funding category supports projects that focus on public engagement with, and access to, various forms of excellent art across the nation, the creation of art that meets the highest standards of excellence, learning in the arts at all stages of life and the integration of the arts into the fabric of community life.
"The arts are at the heart of our communities, connecting people through shared experiences and artistic expression," said Arts Endowment chairman Mary Anne Carter. "The National Endowment for the Arts is proud to support projects like REEL SOUTH."
"I am honored and grateful to the National Endowment for the Arts for its continued commitment to the arts and UNC-TV's REEL SOUTH," said UNC-TV CEO Lindsay Bierman. "The South, through all of its complex history and unlimited potential, can both captivate and confound. Through the cherished tradition of Southern storytelling, told by diverse voices and perspectives, UNC-TV's indie film series REEL SOUTH reveals the South's proud yet complicated personalities and places, as well as its place in our country's history and the here and now."
For more information about projects included in the Arts Endowment grant announcement, visit arts.gov/news.
About REEL SOUTH
As a curated documentary series that supports independent filmmakers working or telling stories about the American South, REEL SOUTH was conceived to counter the under-representation of Southern stories and voices on national public television and to provide a high-profile, consistent distribution vehicle for Southern filmmakers. REEL SOUTH collaborates with close to two dozen filmmakers on long-form and short documentaries, providing fundraising support, editorial guidance, national distribution, promotion and compensation (through broadcast license fees). REEL SOUTH includes diverse points of view by an inclusive slate of filmmakers tackling stories about the rural and urban South, and the growing divide between the two, stories about changing Southern traditions and stories about immigration, the economy, the environment and race through a distinctly Southern lens. REEL SOUTH is a coproduction of UNC-TV Public Media North Carolina and South Carolina ETV, and produced in association with Alabama Public Television, Arkansas Educational Television Network, Georgia Public Broadcasting and Louisiana Public Broadcasting. Series funding is also provided by the Center for Asian American Media, the ETV Endowment of South Carolina, the National Endowment for the Arts and South Arts. Production of REEL SOUTHSeason Five is underway and slated to premiere in April. Past episodes are available online anytime at unc.tv/reelsouth.
About UNC-TV Public Media North Carolina
On air, online and in person, UNC-TV Public Media North Carolina connects North Carolinians to each other, the world and endless possibilities. Through its unique partnership of public investment and private support, the statewide network includes in-person engagement, digital-first social and online content delivery, and four over-the-air channels—UNC-TV PBS & More, the North Carolina Channel, Rootle 24/7 PBS KIDS and the Explorer Channel. Additionally, it provides emergency services support for the state and free educational services and resources for teachers. Visit unctv.org and join the conversation at facebook.com/publicmediaNC, instagram.com/publicmediaNC and @publicmediaNC on Twitter.
For more information about UNC-TV news and information, please visit unctv.org/pressroom.
Contact: Rebekah Radisch, UNC-TV: 919-549-7177 rradisch@unctv.org