Join Me in the Pool: Celebrate Hispanic Heritage Month
Like many others, I grew up watching Mr. Rogers' Neighborhood. However, it wasn't until I reached adulthood that I understood how significant and groundbreaking some of the episodes were, not only to children but to the world.
In 1969, during the Civil Rights unrest, Mr. Rogers took a stand against pool segregation policies in the U.S. by inviting Officer Clemmons (played by a Black actor, François Clemmons) to join him while he soaked his feet in a wading pool. In this simple act of embracing another person's humanity, Mr. Rogers became an example to our nation. In the welcoming spirit of Mr. Rogers, I invite you all to set the same example by "inviting others into the pool" in the totality of their being. One way you can do this is by learning about and celebrating other cultures.
We celebrate Hispanic Heritage Month from September 15 to October 15. During this time, follow Mr. Rogers' example and highlight the amazing contributions made by people of Hispanic descent. Below is a list of books to better prepare you as you engage others to embrace the heritages of our Hispanic neighbors, friends and family. Find more resources at hispanicheritagemonth.gov.
Early Care & Education (Birth–PreK)
Besos for Baby: A Little Book of Kisses by Jen Arena and Blanca Gomez
Los pollitos/Little Chickies by Susie Jaramillo
Round Is a Tortilla: A Book of Shapes (A Latino Book of Concepts) by Roseanne Thong and John Parra
Alma and How She Got Her Name by Juana Martinez-Neal
Early Education (K–3)
Be Bold! Be Brave! 11 Latinas Who Made U.S. History by Naibe Reynoso and Jone Leal
Digging for Words: José Alberto Gutiérrez and the Library He Built by Angela Burke Kunkel and Paola Escobar
Where Are You From? By Yamile Saied Méndez and Jaime Kim
¿Qué Puedes Hacer con una Paleta? (What Can You Do with a Paleta, Spanish Edition ) by Carmen Tafolla and Magaly Morales
Elementary School
Pepe and the Parade: A Celebration of Hispanic Heritage by Tracey Kyle and Mirelle Ortega
Nuestra América: 30 Inspiring Latinas/Latinos Who Have Shaped the United States by Sabrina Vourvoulias and Gloria Félix
Efrén Divided by Ernesto Cisneros
Harvesting Hope: The Story of Cesar Chavez by Kathleen Krull and Yuyi Morales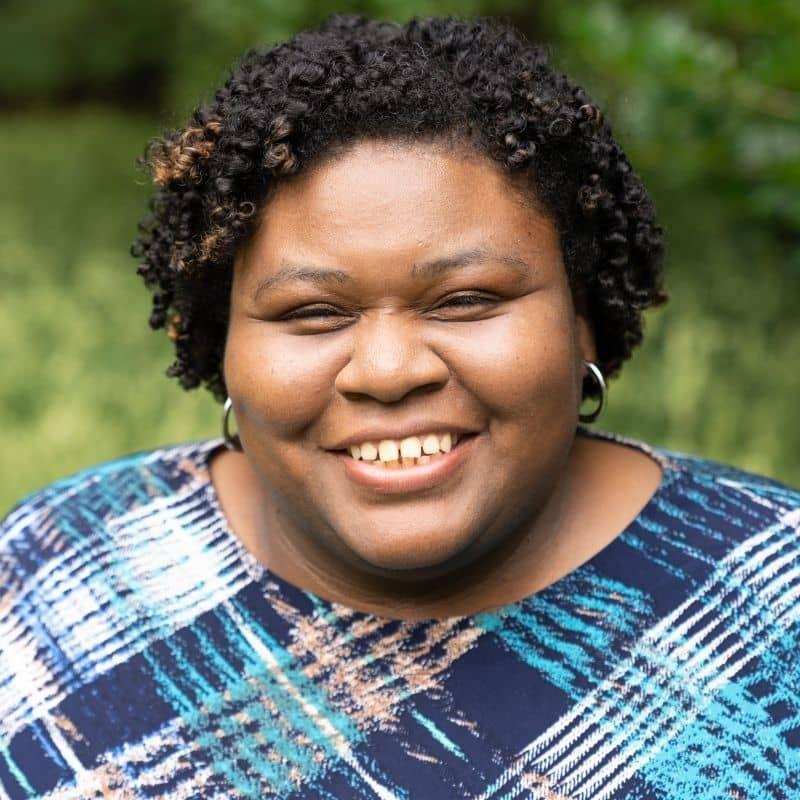 April McClain, Cleveland County
April McClain is a graduate of Belmont Abbey College with a Bachelor of Arts degree in Educational Studies. She is a Provider Specialist at Child Care Connections of Cleveland County, Inc. where she provides high quality training to early care and education providers. April is also a former child care center administrator and teacher.